Simon Estes Riverfront Amphitheater Information
Simon Estes Riverfront Amphitheatre is not like other venues in the area. Not only does it provide excellent sound and sightlines as one of the top outdoor amphitheatres in Iowa, but it is also surrounded by outstanding beauty from every angle. The venue's top notch design and state-of-the-art equipment allows guests to enjoy incredibly high quality events, and what's more, they can also enjoy a magnificent view of the Des Moines skyline, reflected in the majestic Des Moines River.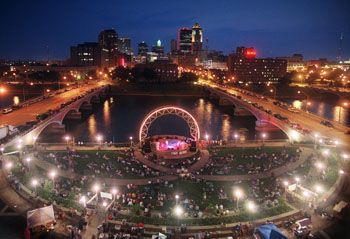 Simon Estes Riverfront Amphitheatre become a frequent stop on world-renowned concert and theatre tours, and also acts as a community hub, hosting local events and family fun days, including political campaigns, fun runs and walks, bike rides, class reunions and even weddings!
A hip, yet welcoming venue that has it all – amazing sound, amazing views, amazing atmosphere and an amazing choice of entertainment – Simon Estes Riverfront Amphitheatre is Iowa's premier outdoor hot spot for great summer shows.